OXARC Welding Schools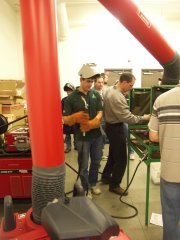 Investing in education is a serious decision. When you explore training options that may increase your salary level and employment potential you are, in effect, investing in yourself. At OXARC, we encourage a student population of responsible adults because we know that they are the best learners. When personal success is the end product of the training process, it virtually guarantees the success of any academic program.
At OXARC, we concentrate on job-specific training. Our welder training program is based on industry needs. As industry makes changes and new technologies are developed, the welder training program at OXARC will be updated to keep pace with these changes. Our goal is to provide quality training in key skill areas in the most practical, justifiable timeframe. We will concentrate on making your welding experience meaningful and enjoyable.
Our welding courses are for the self-motivated adult who recognizes the need to keep ahead of the job market. By keeping up with the welding standards in the industry, you will experience career satisfaction and enjoy the economic and social rewards of a position ideally suited to your interests and abilities.
Experience-Based Education
OXARC offers all training sessions in a stand-up lecture basis with an emphasis on hands-on experience learning. This methodology ensures that students receive the technical industry terminology and standards while learning hands-on skills.
School Philosophy and Mission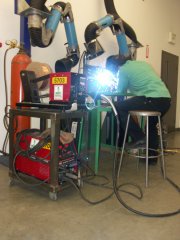 We believe that all students should have the opportunity to develop the fundamental and technical skills that will enable them to secure and retain productive and rewarding career positions in the welding industry. OXARC is committed to providing welding courses that deliver the maximum amount of training in the minimum amount of time, with safety and quality as our goal. The dedication to the overall success of each student forces OXARC to continually strive to maintain its reputation of delivering the highest quality training possible through a combination of qualified, experienced staff; well-organized curricula and contemporary equipment, which reflect current industry standards.
In keeping with its mission and purpose, OXARC strives to:
1) Educate and train students with the current welding equipment found in today's environment;
2) Assist students in developing their technical skills to meet industry standards;
3) Provide students with the most skilled and experienced staff available who are devoted to the personal and career development of every student.